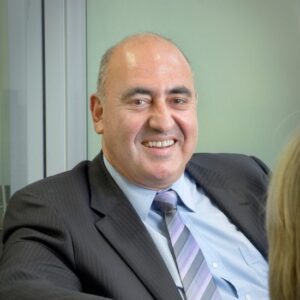 Joe Watkins
Qualifications
Attained global certification at the highest coaching levels over 20 years with one of the world's leading training and development companies.
Bachelor of Commerce – NSW University.
Coaching Experience and Organisations worked with
Coached and facilitated development programmes for over 20,000 people in communication skills, teamwork, leadership, accountability and productivity.
International experience includes leading development programmes, training coaches and workshop facilitators in the US between 2001-2004.
Clients include executives and senior managers in ABB, Accenture, Anglo American Coal, Boral, NSW Catchment Management Authorities, CSC, Gordon & Gotch, IAG, Kellogg Brown and Root, KPMG, Leighton Constructions, Macquarie Bank, Microsoft, NAB, NRMA, Opera Australia, PMP, PricewaterhouseCoopers, The Benevolent Society, Toyota, Volvo.
Business Experience and Competencies
Joe has 35 years experience in executive and regional management, consulting, marketing and sales in both corporate and small business environments across a broad range of industry sectors in Australia, New Zealand, Japan and the USA.
As a result of that experience he has developed the following core competencies
An ability to balance commercial realities, the needs of the individual and the organisation.
Managing people and teams accountably with high levels of engagement from people that work with him.
Rigour and straight conversations done respectfully that has participants go beyond where they would normally be comfortable going.
Empathy and compassion for the demands of senior corporate roles.
Design and delivery of one-on-one and group engagements and the flexibility that this provides in adapting to the changing needs of the participant and organisation.
Developing people's latent leadership skills, their presence and their capacity to have a grounded and empowering relationship to results and integrity.
Creating high levels of relationship and trust in a very short period of time which in turn creates an environment where participants experience that it's safe to communicate.
Outcomes
Outcomes produced by clients Joe has worked with are:
Developing and empowering leadership to bring about change and performance improvements.
Development of individuals and teams who are 'being' leaders versus 'doing' leadership.
Greater levels of confidence to take on challenges presented.
More effective in conflict resolution, communication, delegation, accountability, productivity,work/life balance, engagement and empowerment.
Development of future cultural and growth strategies that take them well beyond the past and predictability.
Testimonials
"As a result of Joe's Coaching I am confident in handling my new position, as well as undertaking further transitions to new and different roles as they arise."
Roger Stanmore, Product Director, Readsoft
"I still have challenges around work life balance but I am dealing with those challenges more effectively and I am happier with my life overall."
Robert Gooch, Divisional Manager, Toyota
"Weaknesses and barriers were identified and tools and thought processes worked through to address them. Strengths were encouraged and developed. Several of my staff, peers and my manager have commented on the positive changes they have observed. The team I lead has improved its effectiveness, and this has led to concrete revenue opportunities and sustainable cost reductions."
Danny Willmott, Executive Director CSC Australia
"The techniques have had a demonstrable benefit in my effectiveness in working with senior executives, board directors and operational managers across a range of subjects and issues. It has provided enhanced relationship management and interaction capability."
David Pegley
CEO, Cash Services Australia
Find Out How Our Coaching & Leadership Programmes Impact Performance & Culture
Hewsons provides unique, transformational coaching for executives and leadership teams across Australia
Level 25
88 Phillip Street
Sydney NSW 2000
Tel: 1300 141020
Email: admin@hewsons.com.au